Nate Chambers' Computer Science Research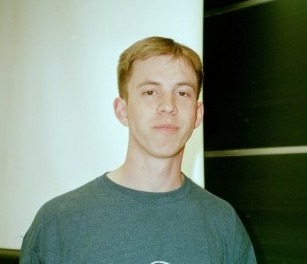 My research experience(s) at the UR began after my sophomore year, actually during sophomore year. I had heard that the faculty in the cs department frequently hired undergrads to help them conduct research, and I had nothing better to do during my summer, so I decided to try it. Now I didn't really know anyone, but I was enjoying my Natural Language class with James Allen and was doing relatively well, so I asked him if he had any opportunities. Sure enough, he did, and I've worked with him throughout my four (soon to be five) years in school.
The first summer I researched an automated semantic tagging system, mainly using probability and different statistical methods. I researched the best way to draw semantic knowledge quickly from a corpus. This turned into a Java application for psychologists to use.
So I suppose this first summer went better than I expected because I was asked back the following summer to work on a brand new system for the Center for Future Health's Smart Home. We created a medical advisor that patients could talk to (yes, verbally) and get questions answered. My main task that summer was to extract prescription drug knowledge from a government web database and code it into an easy to understand format that our system could parse. I was left with a couple weeks at the end of the summer and also created the system's 'visual interface'. Basically, I made a graphical pill guy that spun around and moves when he talks....kind of like the Microsoft Paperclip, Clippy. It was a small thing, but it ended up stealing the show since it was 'cute' and was the only thing you actually saw. The local news even picked it up.
Oh I also spent a semester researching microphone arrays as an independent study. Very interesting, I was trying to reduce ambient noise in the room. More here if you want: Microphone Arrays.
Anyway, now I'm doing the 3-2 program, my master's thesis will be with the professor I started with way back in sophomore year. I'll be working on dynamic speech recognizers. I don't think many other schools would have given me the opportunity to work on so much research as an undergrad. The summer after my senior year I landed a job doing language work for a research lab with Lockheed Martin. The work I'm doing is directly related to and the job I was offered is a direct result of this research. So my words for any new UR cs students...get involved, ask a professor, do some research.
Additionally, Nate was president of the Computer Science Undergraduate Council for 2001-2002 and won Honorable Mention in the Computing Research Association's Outstanding Undergraduate Award for 2002.
My advisor, James Allen
The Center for Future Health
Back to Undergraduate Research
Research at Rochester
---
Last change Feb. 15, 2008 by Marty Guenther
Please report problems with this server to www@cs.rochester.edu
---